Set Up an Owner Account
Hello and Welcome to the Trace family!
You have officially begun your journey with Trace. Let's take a moment to set up your owner account.
Am I the Trace Owner?
If you have recently purchased Trace for your club or team, you are the owner of your Trace account. That means you are responsible for maintaining your teams' account, as well as adding coaches and managers.
Part 1: Create Your Team
Step 1. Open your invitation email and tap the green 'Complete your Account Set Up' button.
Step 2. Complete your account setup by filling out your full name and password. Tap finish to continue.
Step 3. You will be brought to this page. If you haven't downloaded the Trace Teams App, click here to access. If you have, tap the 'Continue to Manager your Account' button.

Step 4. This is your Trace Teams dashboard. Here you can tap to review any game results, edit rosters, trace games, and change settings.
Part 2: Set Up your Team
Step 5. To start add a team, click 'more' to access your settings.
Step 6. Tap settings to access your teams.
Step 7. Tap the teams option to access your current teams. As you can see, we have already added (at least) one of your teams. Tap the 'Add Teams' option to create more.
Step 8. Input your team data and save your info.
Part 3: Add Members to My Account
Step 1. Go back to settings and select the coaches and managers option.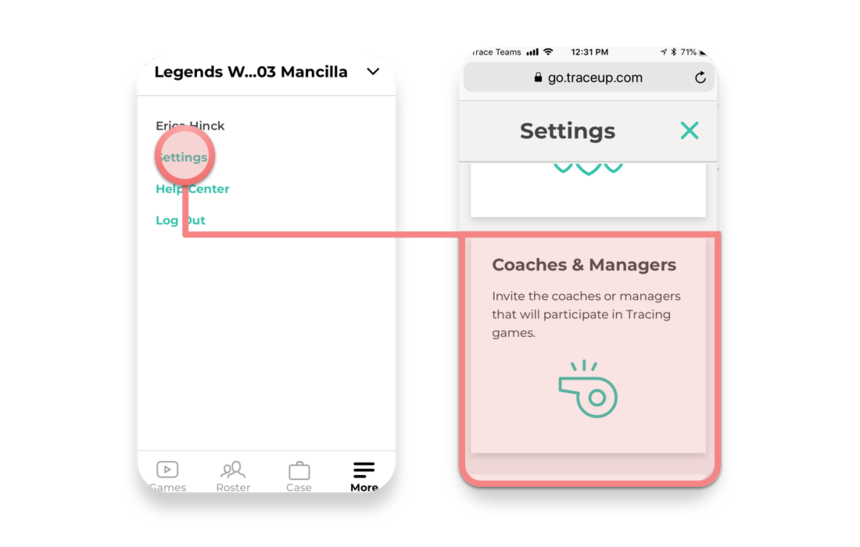 Step 2. Scroll to the bottom of the page and tap 'Invite Member(s)'.
Step 3. Enter the email of your manager/couches then send out the invite.
Step 4. Now that you've finish inviting members, learn how to add a roster.